(left)Laurie Lutz,
Baily, CO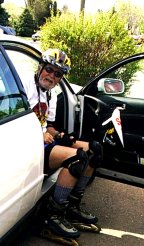 (right) Phil Lenihan, Cupertino, CA
Phil is the "Old Dude On Skates" as stated on his business cards. Old dude or not, he worked hard and had to endure all of us "girls", I think he enjoyed that actually.


We met Friday night at the Bladium, an inline hockey rink/exercise club built in an old airport hanger left over from the original Denver airport. All around us was vast landscape of unused, abandon taxi ways, runway and hangers that look perfect for skating. Except for the tall chain-link fence and barbwire rolls adorning the tops. Would have been fun to skate along the old runways.

Saturday we spent our day on skates in the hot sun working on our level II skating skills, professionalism and practiced teaching the skills to one another, preparing for Sunday's testing.

I for one hate testing, and always get nervous, but finding out that everyone else was feeling the same really helped us to work together as a team and help one another out on accomplishing our skills, and sharing teaching tricks, plus the added bonus of making some very good friends!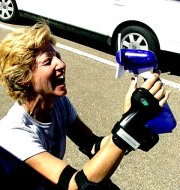 Chris Hauskins from Glenwood Springs, screaming "I hate Lung stops!" no really, she cools down with her handy dandy spray mister, YES IT WAS HOT!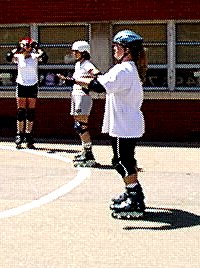 Hey, there I am teaching a class, or trying to keep cool...not sure which one.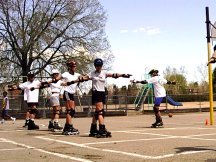 Phil leads the morning calisthenics class...no actually he is getting us ready to skate crossovers.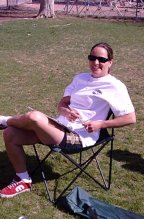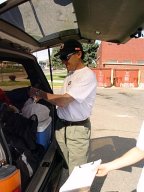 Bettina and Elby the Drill sergeants, actually two very nice and helping people, lots of great advice and feedback, laughs and smiles. Thanks you two.