" I took a business trip in March to the Philadelphia area and discovered the Valley Forge Bike Trail. It is a "Rails to Trails" path. Very flat and long. The surface fairly smooth and has a good ride to it.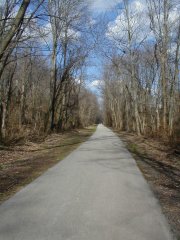 The trail travels along the Schuylkill River (skookul). The ride along the river is very scenic and the breeze off of the river gave me a good work out. The paved portion of the trail starts at Betzwood Picnic Area on the north side of the river at Hwy 422 (across from Valley Forge Park) and heads south to Philly.
I didn't go the whole 13 miles, but was able to go about 8 miles down the path. Beyond the 8 mile mark, the area became a little run down as it weaved though neighborhoods. Lets say, its not a good place to be at night. There are a few railroad tracks to step over, but all and all not a challenging trail.
I would highly recommend this trail to any one that travels to the area. A unique feature was an emergency phone and water fountains on the path about halfway through my trip. "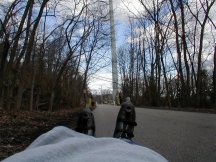 Charlie Bottita
cbottita@qwest.net
Portland, Oregon


"Valley Forge Trail as I saw it"