My journey to Florida allowed me to skate some areas that were right out my front door. I stayed at my mothers house in Gulfport Florida. Gulfport is a majority retirement community on the south side of St Petersburg. It is very flat, as is much of Florida. The town borders Boca Ciega Bay, which is connected to Tampa Bay.
The water front of Gulfport made for a very nice early morning skate. The temperature in the early am was in the 80's with humidity around 80%. There are pathways along the beach and nice views from streets that parallel the bay.
The surface was very different from section to section. Smooth trails, to rough road made for interesting skate.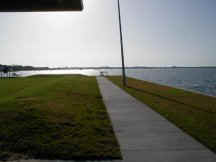 Charlie Bottita
cbottita@qwest.net
http://www.charliebottita.dns2go.com
Have you been skating somewhere great lately?
Email Nancy
to submit your "Letter from the Road"