Freestyle Dance Accredation
The weekend of February 2, was filled with outside edges, sore ankles, stiff joints and big smiles after Freestyle Dance Accreditation in Seattle Washington.
Kim Ensley, Nancy Hartman, Kurt Lessor and Penny Wagoner joined IISA instructors form the Pacific Northwest and Vancouver BC to learn from one of New York's finest Freestyle Street Skate dancers and IISA instructor/Examiner, Steve Kay.
Although we left with a little "discomfort" we were energized and excited to return with encouragement for our students and a new dimension in instruction, adding spice and new dynamic and "rhythmic" components to our teaching and skating.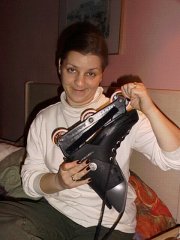 "Not sure about these"Kim changes to the Explorer Entertainer Dance wheels, pretty small compared to street wheels.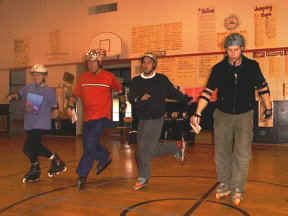 Right to left: Kim, Lorne, Steve and Mark performing the "Tap Dance Kid"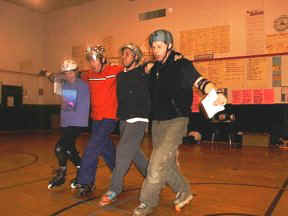 Hooked up "Tap Dance Kid"