HOME
Inline Skate Resource
Skate Journal
Skate Schedule
Learn To Skate
Skate Accessories
Skate Links
Article Archives
Where to Skate
Skate Maintenance
Speed Skating
Roller Hockey
Email
Sign-up for Email List
Weather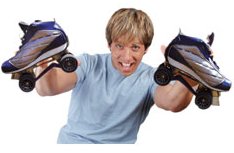 Please check out the video "The Roller Rapper" which is number one on MTV's ifilm.com in the music video rock and pop section. The roller rapper is an indie artist that is planning to skate across rt66 starting in Chicago, IL and ending in Santa Monica Beach, Ca. this spring. The tour is called the "Roller Love Tour" that will benefit Saint Jude Children's Research and 16 other charities.
Somehow it's a miracle that his music video is in the number one spot ahead of established artists such as Jessica Simpson and Green Day without the promotion and backing of the major record companies The amazing thing is that the video is number one without sex, drugs or violence.

This is a great promotion for skating and we need everyone to give us support. The video is ranked by viewer-ship so every time the video is watched it will stay at the top.
The Roller Rapper, AKA Robbie Love, will be kicking off his cross country roll on July 6th in Chicago. Oprah Winfrey has been invited to join the Roller Rapper at the USA Skates roller rink. Oprah has been asked to select her favorite charity, which the money raised from the Chicago area performances will be donated to.
His performances along Route 66 are fun, clean and designed to promote togetherness in celebration of giving love and kindness unconditionally.
50% of CD sales will benefit St. Jude Children's Research Hospital®, and 16 other local charities along the way.
Multi-Grammy winner, the legendary KC of KC & The Sunshine Band, and Howard Lee Gatch, are the personal managers for the Roller Rapper.
KC, who made music history with 4 #l hits in one year, is helping to promote The Roller Rapper because his music and message are something people can enjoy and share with their children. The song and video's instant popularity achieving #1 on MTV's IFilm.com seems to confirm that.
A movie and a music video for his new single "Skate" will be produced by the award winning Tyrone Dixon, of "8 WheelsDoc" and "Roll Bounce."
Follow "The Roller Rapper's" Love Tour on his blog at: RollerTour.com