Inline Skate Resource
Skate Journal
Skate Schedule
Learn To Skate
Skate Accessories
Skate Links
Article Archives
Where to Skate
Skate Maintenance
Speed Skating
Roller Hockey
Email
Sign-up for Email List
Weather
I can never turn down an opportunity to travel. When my Sister mentioned she would be in San Francisco for work and I could stay with her, I was on the phone working out the details. Wednesday afternoon, I found a flight, a guest pass from a good friend, and I was jetting off less than 24 hours later.
Every time I travel I try to pack a carry on to make life simple, but for some reason it never really works out. After stuffing in my helmet, skate pads and clothes to skate in, adjustments needed to be made for the rest of the weekends attire. Out came the bigger bag.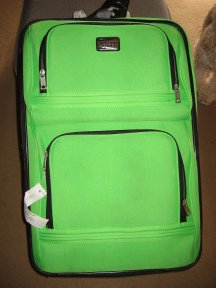 I bought a new BRIGHT green luggage, and couldn't' wait to try it out. I knew I would have no problem finding my bags at baggage claim. My Sister snickered at me, and I had a few admiring looks from travelers, wishing they had my luggage!
I also always carry my skates on the plane with me. I lost them once when I checked them on a trip home from Miami. That will not happen again. People smile, it leads to conversation on skating, since I am not the typical inline skater as a 40+ mother of two. After a few words I have them convinced that they could skate too. I tell them all about touring a city on skates, meeting people, seeing all the sights, stopping where you want and enjoying the atmosphere of the city.
When we arrived at our hotel, The Harbor Court, I studied the city map with the helpful concierge of the hotel. He helped me to choose what places to go and find the things I wanted to see. My biggest concern was getting stuck somewhere on one of the infamous hills. The concierge was great and gave me great advice for the route of least resistance.
Brenda, my Sister, had to work Friday, so that was my opportunity to take on the Streets of San Francisco! After she left for work, I got up, showered and smiled, then worried a moment. I am from Portland, Oregon, it has been raining since September. I haven't skated for 5 months!! I decided on a conservative approach. I would take on the Embarcadero for a few miles, find some breakfast then come back and take the N train to Golden Gate Park.
I hit the Embarcadero, Pier 1at 8:30Am. I slipped on my dusty sun glasses, the sun was shining, there were flowers blooming, and I was rolling while the crowd was hustling off to a day at work. That's a great feeling, reminding me of when I was younger and we would skip school with my Dad to go skiing on a day of sunshine and powder snow!

The pavement was smooth and fairly wide, I definitely recommend it for a skate. Great view of the bay, lots of people watching. Peeking into the piers as I skated by was interesting, it was like a treasure hunt. So much stuff either coming or going somewhere! I had my music on, and cruising at a comfortable rate when I realized I felt great, and I could just keep going.

I stopped for a smoothie, found a Walgreens and bought some flip flops, a cheap backpack, some more batteries and a bottle of water. That is when I spotted the bike rentals. Something about bike across the Golden Gate bridge, I rolled over and borrowed a map, looked to the west and saw the span in the distance. I was off, skating to the bridge, stopping along the way to take in the sites of the city and explore every nook and cranny.
I did find a ship and submarine along the pier.
I wasn't able to skate down into the maritime museum, so I headed out to the pier across from it to try and get a look at some of the boats. I was just below the Ghirardelli chocolate factory and was disappointed to find out that it was just a mall now full of stores, rather then secret caverns of chocolate waterfalls and Oompa Loompas.
(Too many movies for me I guess)
| | | |
| --- | --- | --- |
| Fisherman's Wharf | Ghirardelli Square | Pier 39 Sea Lions |
Almost to the Golden Gate Bridge, I think just after Fort Mason, the city is so kind to place speed radars so you know how fast you are going. I couldn't pass the opportunity up to test my resolve and try and hit the maximum speed of 25. It was a challenge, trying to hold the camera steady, build up speed and hit the sign at 25, but as you can see 23mph isn't too bad ;)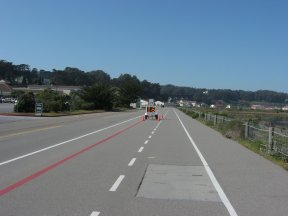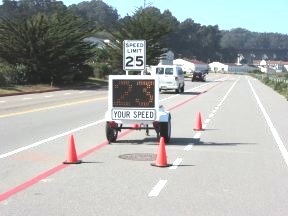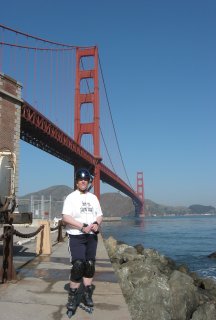 Once at the bridge, I had a decision to make, do I go up and over? Then where does that go? Likely back down, what about head winds? what's the grade of the ramps? I made the decision to head toward Golden Gate Park instead, and followed directions of a few helpful people, that led me in circles UP in the Presidio area ( Not suggested skating area for those visiting San Francisco) After skating in circles for about an hour, I hopped on the next bus out of there, heading south.
I followed along on my map until we reached Panhandle park, and Haight street. Always wanting to check out the famous area, that is where the bus and I parted ways. The popular food of the moment in San Francisco seemed to be crepes. Not just for desert either, they were stuffing crepes with anything you could think of. It was around lunch time and the first interesting place I came across to eat was the Squat and Gobble restaurant. Sounded perfect, so I slipped off my skates and enjoyed my lunch and the fun art on the walls.
After lunch I continued down Haight street, glancing at the shops and atmosphere surrounding the area. It seemed to be much more commercial now then maybe it was back in the 60's, I don't know since I am not old enough to have visited back then. But I made a mental note to bring my Sister, Brenda, back that night for dinner and shopping.
At the end of Haight, I ran into Golden Gate Park, and started down through the pathways, and interesting crowd of park dwellers. I couldn't really decide where skating was allowed in the park. Many of the pathways were marked with "No Skating stamps" on the pavement. It didn't seem right to skate through the Japanese Tea Garden, or Conservatory of Flowers, so I opted to Kennedy Dr. It didn't really find the park as good as skating as early that day. The road was very busy, crowded, and the surface wasn't the best either. It was more of a transportation, rather than a tour route. Kennedy seemed to be an active road, then suddenly was blocked off to traffic, the an open road again.

There were a few visual bites that I stopped to photograph along the way, but all in all, I wasn't too impressed with skating in the Golden Gate Park, at least on Friday. Unfortunately, I wasn't going to be able to skate it over the weekend when they have the road closed for skating.

I kept going all the way to the ocean, and felt accomplished on my journey for the day. The Concierge, told me to catch the N train back, I could pick it up on Judah street, just a few blocks down.

I was a little tired it was almost 3:00PM, I had been skating since 6 hours, and opted for the train ride back. I am glad I did, it was quite a distance back to the hotel, and lots of hills. I really enjoyed San Francisco, and wanted to figure out how to join up with the Friday night skate. I was there with my sister and it wouldn't have been a very sisterly thing to do to leave her to skate again. So that just means now I have to go back to San Francisco again!