Home
Inline Skate Resource
Skate Journal
Skate Schedule
Learn To Skate
Skate Accessories
Skate Links
Article Archives
Where to Skate
Skate Maintenance
Speed Skating
Roller Hockey
Email
Sign-up for Email List
Weather
September 18, 2000
Hi Nancy,

We took our skates to Ashland this last weekend, and found the bike path between Ashland and Medford. Although not quite finished, there is about 5 or 6 miles from Ashland to Medford along Bear Creek. Then there's a few miles of gravel, and then more pavement for another 5-7 miles. We had a good skate on the first section, but it did seem a little more hilly than what we have experienced. Laura's brother David skated with us, and he had no trouble. He's been skating for 10 or so years. There are maps of the
path available at the information kiosk in downtown Ashland, and probably at any information centers in the area.

Feel free to pass on any travel skating information we come up with. We are still trying to find good skating here in Bend.

See ya later,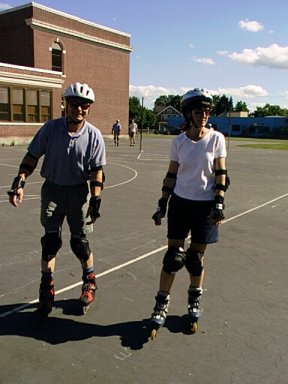 Bob & Laura Goold


Bob and Laura are PISA members in Bend Oregon. They travel alot and write to tell me about the places they find to skate. Thanks Bob & Laura for keeping in touch and letting me post your letters.