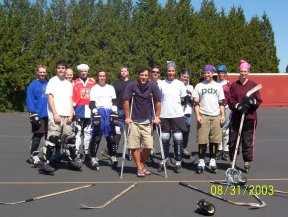 Mike DeBuhr in the whiteshirt and Dave
McAllister in Dark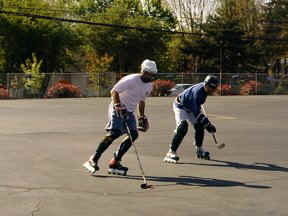 I was driving by on my way to Oaks one Sunday, when I spotted a rollerhockey game that took my eyes from the road for a brief moment. I drove on by and continued on to Oaks. Two weeks later, on my way to Oaks, there they were playing hockey again. This time I stopped to watch.
I stood and watched the group slam the puck back and forth, a mixture of both men and women out having fun on a sunny Sunday afternoon.
I met Mike, we exchanged emails and the following week I received notice for the next Sunday's game. This time I packed my camera and planned to stop by after a long Sunday afternoon skate. I sat and watched the bunch roll back and forth for a bit watching the fast pace and friendly charges
Mike Volk dazed and confused by
Canadian Ice Monkey, Jim Kiekens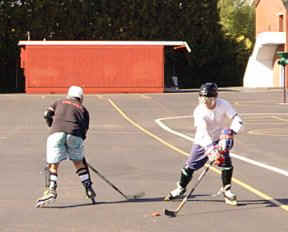 I talked with a few players as the arrived and geared up, or when they rolled off the field for a drink of water. All were friendly, inviting and willing to help get me started. I am just not sure that hockey is for me. A trip to Play It Again Sports someday might be in order, it sure looks like they are out having fun!
Nancy Hartman
According to Mike Volk, Crazy Ivan started it a few years back and they've been playing fairly consistently for the past two years or so. They don't have a real set schedule, but mostly play on the weekends, and they have all gotten better at skating and playing. Someday Mike wants to figure out where Crazy Ivan keeps his nuclear power pack and disconnect it so he'll run at normal speed. "He's like some kind of crazy cartoon character".
They have built their own goals and Bob Noon is the king of finding discounts on hockey gear and letting everyone know where the deals are.
Mike will send out e-mail to the distribution list to see who will commit to playing at a certain time and date. If they get six people to commit, then he send out a confirmation e-mail saying the game is on. He tries to keep the number of e-mails to a minimum.
Above left to right, Dave Mcallister, "Crazy Ivan" Meadors, Bob Noon, Jim Kiekens, and Kent "The Land Shark"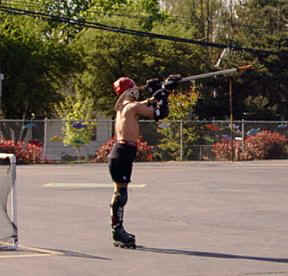 Crazy Ivan, a.k.a. Tarzan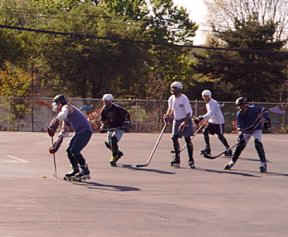 (left to right)Jim Kiekens, Mike Volk, Mike DeBuhr, Clif Wilkins and Dave McAllister