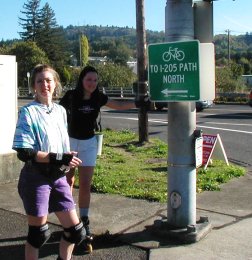 Three of us took on the challenge of the I-205 bike path Sunday afternoon. What a perfect day! Sunny and warm and dry. We started at the Gateway Transit Center near I-205 and 99th and Glisan, then headed toward Clackamas Town Center. After crossing the MAX tracks (watch out for silent trains!), the path is rather smooth, but there can be debris. It's not exactly through the best neighborhoods and I think the path attracts some transients. However, it's good for getting exercise and fresh air and scenery. Many bicyclists were out enjoying the weather, but where were all the other skaters?
Shortly after Johnson Creek Blvd. we were disappointed to see the path barricaded. Not willing to give up that easily, we crawled through a hole in the fence (which was already there, I swear!) and skated onward to see what adventures lay ahead. Well, it appears that a tall cement freeway wall is being built on BOTH sides of the path, which will eliminate any view. The path grew increasingly muddy and full of gravel and oil from big machinery. When a big auger totally blocked the path, we decided we'd had enough, and headed back. All the sun, fresh air and adventure made us a little tired, so we decided not to skate the other way to the Columbia River. Maybe another day.
So, how about another weekend skate? Perhaps Saturday? Any suggestions on where to go? I was thinking of meeting at Main City Park in Gresham and skating the length of the Springwater Corridor that's smoothly paved. There isn't as much path as the I-205 trial offers, so it might not be enough of a workout for some, but those people could skate it twice or perhaps see of the city of Gresham is skatable.