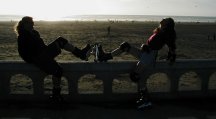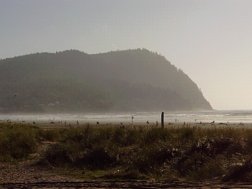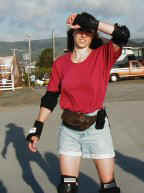 Upper Left, Nancy and Maria posing for mudflap silhouettes, Right, photo overlooking Tillamook head, Lower left Maria blocks the bright sun

Labor Day weekend at Seaside was great! After spending a week on vacation with my family, skaters started to arrive for a couple of days of skating on the coast. I'm sure the weather may have fooled many of you, you just can't predict what it will do on the Oregon Coast. Friday Night was beautiful, Skaters from Portland, Jerry, Maria, Andrew, Anna, Nancy & Matt were joined by Tom Nault from Seattle for an evening skate through the city and along the Prom.
After the skate, we enjoyed roasting marshmallows on the beach and marveled at how beautiful it was. Night skates are always a blast, you know this if you have ever been on one, but skating along the prom as the sunset was truly wonderful.
Left to right, Jerry, Maria, Matt and Tom
Saturday morning brought another story, heavy rain started early, and it didn't look like it was going to let up. Andrew and I put on our coats and walked up to the turnaround
looking for skaters that may have driven in hoping for a beautiful day. After about 15 minutes we threw in the towel and headed for coffee at the internet cafe and sat down to look at the satellite weather report. The front looked like it would move through, so we headed back to the beach house where Tom dropped in on his way back to Seattle, with a few dozen delicious fresh baked donuts for all the skaters. Thank you TOM!..they were terrific. So what do you do when mother nature changes your plans?..Maria, Jerry, Andrew and Anna, went for a drive to Astoria, Jessica took a Nap and Matt and I hauled the kids to the Factory Outlet stores and everyone got haircuts.
About 1:30pm..the steam was rising from the pavement and the clouds dissipated and we all rallied at the beach house, for an afternoon of sunny, 70 degree weather and skated! Again through the city, along the prom and then we headed up Tillamook Head for a "butt buster" skate.
We met up with Kurt and Jan on the way back, and spent the afternoon doing some fun skate dancing on the Prom.
Nancy

"Charlie's Skaters" Maria, Jessica and Nancy pose for shadow shot --->


Jerry at the top of Tillamook Head, Maria and Him Hike the last bit of rough pavement and steep Terrain on their skates for the Perfect view!

Maria at the top

Left to Right, Maria, Nancy, Matt, Kurt and Jan

Maria and unknown skater (back)

Maria Dancing

Left to right, Jessica, Nancy Maria and Marianne meet up on the Prom

Left to Right, Jessica, Jerry and Maria

Jessica

Kurt and Jan

Maria , check out her feet!

back, Matt and front Jerry

Maria and Jessica

Nancy playing with the shadow

Nancy one more time

Left , Nancy, back Matt, Maria and Chris on bike, Jessica right front