Portland Skater, Bonita Seubert Places 6th in 2001 Nationals!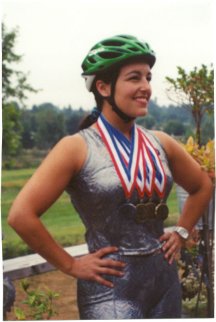 Bonita Seubert wins GOLD at the Oregon StateGames, July 2000
Congratulations to Regional Champions! 2001
Each year in June, Oaks Park hosts the Northwest Regional Championships comprised of skaters from Alaska, Hawaii, Washington, Idaho, Utah, Montana, and Oregon. Those skaters who place in the top three of their events qualify to skate the US National Roller Skating Championships.
Here are the results of the qualifiers from Team Oaks:
Standard Junior Olympic Elementary Girls
Beth Hesketh,
Third Place

JO Elementary Boys
Adrian Unkeles, Second Place
Veteran Men


Jeffrey Hawley,
Third Place
JO Sophomore Men
Joshua Hesketh, Second Place
Veteran Women
Teddie Matteson,
Third Place
JO Classic Women
Bonita Seubert,
First Place
Classic 2-Man Relay
Randall McBride and Derek Meade, Second Place
Classic 2-Mixed Relay
Angela Officer and Randall McBride, Second Place
The 2000 PIR Skating Season was a Success! The skate race season at PIR went from May until September this year, thanks to good weather.
Check Skate Schedule for day and time
We had many new faces out this year(yeah!), skaters came from the east coast, California, and Canada. We had every age group there, from juniors to masters. We had some awesome skaters leave the area for job reasons Celynn K., Derik, we will miss them very much.
After some of the races we would have BarbeQs, or we would me at the Bridgeport to celebrate.
Hope to see you all(fitness skaters and speed skaters) out there next year.

Bonita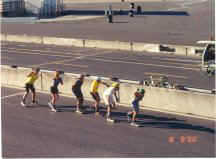 Skaters at PIR, September 2000, starting at the lead position:Bonita Seubert, Howard Unkeles, Sherrell Steinhauer, Celynn Krueger, Luigi Schiavo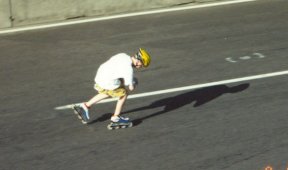 Adrianne at PIR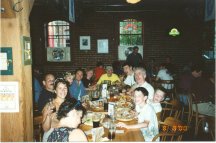 Skaters at Bridgeport Brew Pub celebrating the end of the season at PIR, September 2000. Starting at bottom left, clockwise: Teddie Matteson, Bonita Seubert, Luigi Schiavo, Luigi's fiance Debra, Celynn Krueger, Sherrell Steinhauer, Derek Mead, Howard Unkeles, Adrianne Unkeles, Richard Unkeles